Status : complete, in need of inspection and exhibited at the workshop


Specialized in radial engines, the Walter company conceived mid 1930's a small four-cylinder inline, air-cooled, inverted straight engine for aircraft called Mikron. The first version Mikron I produced 50hp and only a small batch of 16 was produced.

The prototype Tipsy B tested one but the production line was fitted with the more powerful Mikron II of 62hp. This engine was an immediate success because it fills the gap of small, light, reliable and powerful engine that was needed to power many light and amateurs aircrafts.

More than 400 were built before the war and a new version slightly modified called Mikron III of 65hp was introduced after the war till 1950.
In the 1980's, the name Mikron was re-used by Aerotechnik to produce a modern version of 75hp.

It is still produced by Parma Technik in different versions called IIIA, IIIS, IIIB,… and is again a success.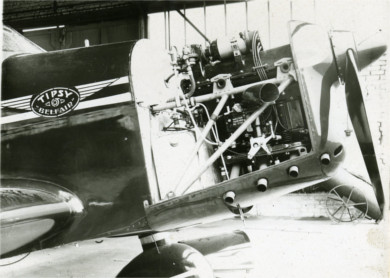 Walter Mikron in Tipsy Belfair OO-TIC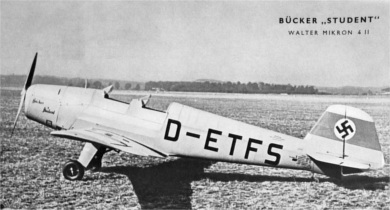 Bücker Bü_180_Student
Walter Mikron II

| | |
| --- | --- |
| Characteristics : | Performances : |
| 4 cylinders inverted air-cooled inline | Power : 62hp at 2800 rpm |
| Bore : 88 mm | |
| Stroke : 96 mm | |
| Displacement : 2336 cm³ | |
| Total weight : 60 kg | |
| Lentgh: 804 mm - Whidth: 342 mm | - Height: 635 mm |
B.A.P.A' s Mikron II was destined to the scrap dealer and was given to our association thanks the cleverness of Pierre Doubels who thought of us. When you know that each owner of aircraft fitted with a Mikron is looking for spare parts, it is a precious gift.

Tipsy Trainer OO-EOT powered by Walter Mikron II (2015)